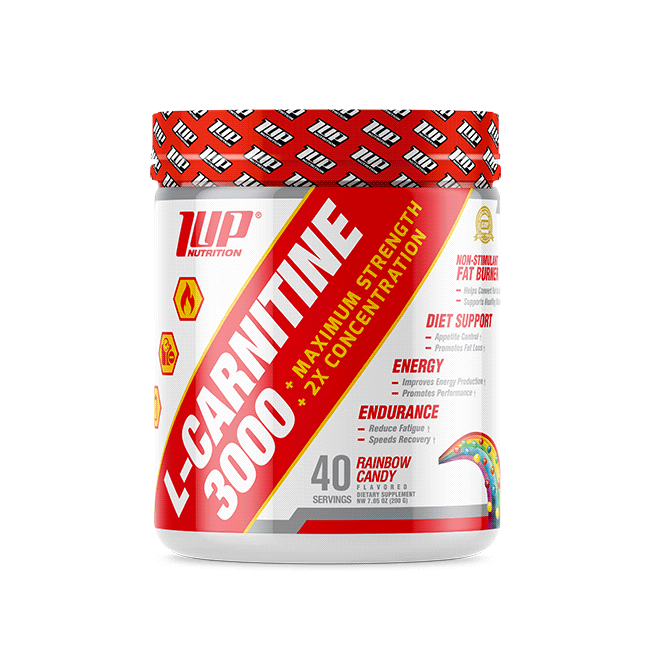 L-Carnitine 3000
Full Ingredient Disclosure
Looking to get lean? This is the amino acid you need. Pure L-Carnitine transfers long-chain fatty acids, such as triglycerides into mitochondria, where they may be oxidized to produce energy. In other words L-Carnitine helps our body to use fat as energy. Carnitine has also been shown to reduce fatigue and serve as an appetite suppressant as well. Therefore, L-Carnitine would be a major asset to have in your arsenal when you are dieting. It not only will help keep your body from storing fat, but it will increase your aerobic capacity to help you burn more calories.
Maximum Strength - 2x Concentration

Helps convert dietary fats

 

to

 

energy
Helps increase endurance
Stimulant free diet support
How is #1UpNutrition L-Carnitine 3000 different from other liquid L-Carnitine?
L-Carnitine is an essential nutrient. In the human body L-carnitine is used for the breakdown of fats in the manufacture of metabolic energy. As well as speeding up metabolism and giving you more energy. Making it an amazing non-stimulant supplement for fat loss.
We offer a Pure L-Carnitine that is specific for mobilizing fat. While other products offer blends using Acetyl-L-Carnitine and L-Carnitine Tartrate, which are comprised of a smaller percentage of actual L-Carnitine. 
Full Label Disclosure
L-Carnitine 3000 Supplement Facts :


Direction
Recommended Use: As a dietary supplement, take (1) scoop 1-2 times daily with 4 oz of cold water, Pre-Workout, BCAA/EAA or your favorite beverage. The fat loss benefits of supplementation with L-Carnitine are typically felt after 60 days of continued use.